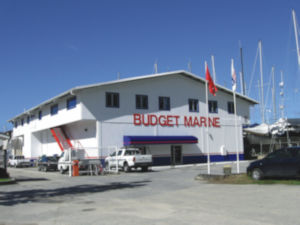 Port of Spain, Trinidad: Budget Marine Trinidad is now the exclusive dealer for Suzuki outboards in the country. The store located in Chaguaramas will carry the new models of the Suzuki 4 stroke outboards that features fuel efficient, high performing engines in sleek designs.
"From the lightweight sports models to the robust big power V6 engines and the versatile medium range between, customers may order any of the Suzuki range, including multi-function tiller handle steering models." expressed Ruth Lund, marketing consultant at Budget Marine Trinidad. "Boaters are finding they can go further and faster for less, as these outboards provide remarkable fuel savings while maintaining power", she added.
Suzuki's Marine products, which currently celebrate their 50th anniversary, are known for their great efficiency and strength. Additionally, they have the innovative technology Lean Burn Control, which provides the highest efficiency while cutting down on energy consumption. Most of these products are also notorious for having Suzuki Selective Rotation. This special replicator allows the turning of the lower unit's gearing, which enables turning the outboard in reverse rotation, thus eliminating the need to buy a specific reverse rotation unit. Suzuki's marine motors have been awarded eight prizes for innovation.
For more information visit our webpage www.suzukipr.com or visit the Budget Marine store located at Western Main Road in Chaguaramas. You can also contact us via email on This email address is being protected from spambots. You need JavaScript enabled to view it. , or via telephone 1-868-634-2006. You can also visit our Facebook page Facebook/SuzukiCaribbeanMarine and click the "like" button.