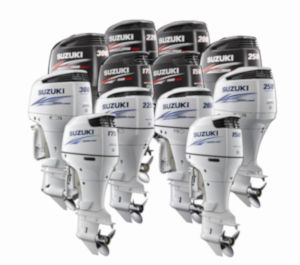 Suzuki Marine now offers a color option when purchasing an outboard engine. The Japanese outboard manufacturer gives the consumer the alternative to choose between their traditional Shadow Black Metallic and the new Cool White.
"We now provide a little something extra to our award winning outboard engines," expressed Erving Rosario, sales and marketing manager for Suzuki Del Caribe. "Our customers pride themselves on having The Ultimate 4-Stroke Outboard equipped with unique features such as offset drive shaft, self-adjusting timing chain, the largest reduction gear ratio in their respective class, combined with world-leading Lean Burn Technology all packed in a sleek design that now has the option to be in a Cool White," he added.
The new color option is available in the mid-range category starting with the DF60A, and all other models in the Inline-4 cylinder and V6 categories. The outboards can be purchased at any of our Suzuki Marine authorized dealers throughout the Caribbean.
For more information about Suzuki Marine products, dealers, and services, visit www.suzukipr.com, or call 787-622-0600. You can also visit our Facebook page Facebook/SuzukiCaribbeanMarine and click the "like" button.