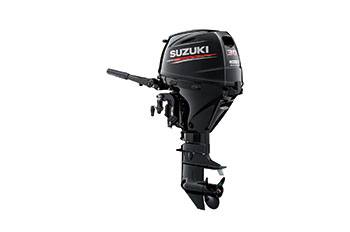 State-of-the-Art designs make the new DF30A the most technically advanced portable outboard on the market today. This is the world's first 30 hp outboard motor designed with Lean Burn and Battery-Less Electronic Fuel Injection. The Suzuki EFI system operates Battery-Less, which is an industry first in this horse-power class. The DF30A is a smooth running "Next Generation" four stroke which delivers quick starts, great acceleration, awesome performance and superior fuel economy.
SPECIFICATIONS
Engine Type
4 – Stroke SOHC 4-Valve
Fuel Delivery System
Electronic Fuel Injection
with Lean Burn
Transom Height mm (in.)
S: 381 (15) L:508(20)
Starting System
Electric or Manual
Dry Weight kg (lbs.):
Manual: S 62.0 (137), L 63.0 (139), Electric/Manual: S 65.0 (143)
No. Of Cylinders
In line -3
Piston Displacement cc (cu. in.)
490 (29.90)
Bore X Stroke Inches (mm)
60.4 x 57 (2.80 x 2.68)
Maximum Output Kw (HP) / RPM
22.1 (30)
Operating Range (RPM)
5300 - 6300
Steering
Tiller
Oil Pan Capacity liters (U.S. / Imp qts.)
1.5 (1.6)
Ignition System
Digital CDI
Alternator
Manual 12V 6A / Electric 12V 12A
Trim Method
Power Trim & Tilt| Gas Assist
Gear Ratio
2.09:1
Gear Shift
F-N-R
Exhaust
Through Prop Hub Exhaust
Propeller Selection (in.)
10-14
Fuel Tank Capacity
Separate 25L
SUGGESTED PRODUCTS
DF15A EFI
Introducing the next-generation in 2-stroke portables… Suzuki has raised the bar once again.