Details

Category: News
13 June 2014
Hits: 612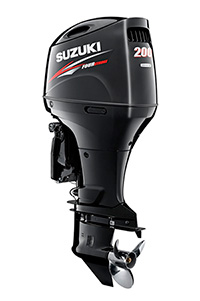 With the introduction of the new DF200A 200-horsepower inline-four-cylinder outboard motor, Suzuki offers boaters a new dimension in 4-stroke power, as the new DF200A delivers the kind of impressive performance one would expect only from a V6 engine. The DF200A features:
Direct Air Intake and Variable Valve Timing for exceptional performance
175 cu in "Big Block" Displacement and a Higher Compression Ratio with for impressive acceleration and low end torque
Lean Burn Control Technology for improved fuel economy
Knock, O2 and Water Detection Sensors and systems to monitor and control internal engine operating parameters and improve reliability
Importantly, the new 4-stroke DF200A weighs in at just 498 lbs, over 12% less than Suzuki's V6 200 horsepower outboard.
Big Block Performance Without Compromise
One look at the cowling of the new DF200A indicates this outboard is something special. However, the shape of the cowling represents more than just contemporary styling. The design of the cowling and the special baffling underneath work together to provide a semi-direct air intake system that provides cooler air directly to the engine's long track tuned intake manifold. The engine breathes even more efficiently thanks to Suzuki's proven Variable Valve Timing system and twin intake and exhaust valves for each cylinder.
By allowing the engine to breathe cooler air, both acceleration and top end speed are improved. In fact, Suzuki factory testing reports a 1.5% improvement in top end speed and a whopping 12% improvement in 0 to 30 MPH acceleration when compared to competitive models.
Another contributing factor to these improved performance numbers is the 10.3:1 compression ratio. By increasing compression of the fuel/air mixture by 9.7%, Suzuki engineers have dramatically improved the power output from its impressive 175 cu in displacement DOHC powerhead.
Holding Weight In The Balance
When it comes to speed and performance, boaters must balance power and weight, and while power may be rather straightforward, weight is not. Many factors must be considered, including the weight of the boat, the weight of the load and the weight of the engine(s).
Until now, many boaters had to deal with the weight of a V6 engine in order to achieve the level of performance they desired. Now, with the introduction of Suzuki's new DF200A outboard, there's a real alternative to a V6.
With the DF200A weighing just 498 lbs, boaters can choose a lighter, inline-4 cylinder engine without sacrificing power or performance. For those boaters in the market for a new boat and motor, or considering repowering from heavier V6 4-stroke outboards (or even older 2-strokes), the new DF200A provides an attractive choice in terms of size, weight and fuel economy, not to mention cost of purchase.
Enhanced Reliability Through Engine Management Sensors
The addition of Knock and O2 sensors helps keep the engine running smoothly using regular 87-octane gasoline. The knock sensor "listens" to combustion, providing information to the ECM to precisely manage engine timing. The O2 sensor monitors engine operating conditions and provides input to the ECM to manage the fuel/air mixture for maximum efficiency and optimum performance.
The DF200A also features a water detection sensor to warn of moisture in the fuel system, a common concern given today's use of ethanol-blended gasoline.
Suzuki's Proven Lean Burn Control Technology
With the introduction of their Lean Burn Control Technology, Suzuki engineers have made fuel efficient 4-stroke outboards even more economical. By taking full advantage of the computer control afforded by the 32-bit onboard ECM, and through the use of engine sensors monitoring everything from engine timing to ambient temperature, the system is able to provide the precise amount of fuel needed throughout the rpm range.
By utilizing Lean Burn Control Technology, the inline-4 DF200A enjoys a significant improvement in fuel economy over Suzuki's V6 200 horsepower outboard. In fact, Suzuki Factory Testing indicates a 32.6% improvement at top cruising speeds (5000 rpm).
Optional Troll Mode
Suzuki's popular Troll Mode is available on the DF200A as an optional feature. When operating in Troll Mode, the driver can control speed in 50 RPM increments from idle to 1200 rpm for precise speed control when fishing.
Additional Features On New DF200AP Models
In keeping with its long list of product innovations, the DF200AP will be the first 200HP outboard on the market available with Suzuki Precision Control drive-by-wire controls and Suzuki Selective Rotation. With Suzuki Selective Rotation, dealers can set up engines in either standard or counter rotation, thanks to specially-designed gearing in the lower unit and the engine's electronic shift controls.
In addition, DF200AP models will feature a keyless ignition system. This system uses a coded keyfob to transmit an access code to the engine's starting system. When the keyfob is within 60-inches of the main unit of the starting system, the user simply turns on the ignition system switch and starts the engine with the push of a button. When it's time to leave, the user can turn off the engine, switch the ignition system switch off and head for home.
A New Outboard For Today's Modern Boater
When Suzuki first introduced its line of 4-stroke outboards over 15 years ago, they pioneered many technologies that are taken for granted today. For example, Suzuki was the first to feature fuel injection on their 4-strokes, the first to incorporate a long track intake manifold, and when Suzuki introduced the world's first 200, 225, 250 and 300 horsepower 4-stroke outboards, they designed their engines consistent with the industry-standard mounting dimensions.
In fact, every Suzuki outboard from the smallest up to our flagship 300HP V6s fit on standard 26-inch mounting centers. (A fact appreciated by any boater considering repowering with new outboards.)
As Suzuki has introduced its next-generation 4-stroke outboards, they have also introduced new systems, like Lean Burn Control Technology, that deliver improved fuel economy, performance, and reliability.
With its surprisingly low weight, advanced technology features like Lean Burn, Knock and O2 sensors, and performance-enhancing compression and intake specifications, boaters looking for a new 200 horsepower outboard need look no further than the DF200A and DF200AP. The advantages in terms of cost of operation (less weight, improved fuel economy, easier maintenance) and exceptional performance, make this engine a perfect match for all kinds of boats, from freshwater fishing boats to technical saltwater flats boats and center consoles, and especially today's larger, more luxurious pontoons and deck boats.
Available later this fall, the new Suzuki DF200A stands to redefine lightweight outboard performance and fuel economy. The DF200AP will be available in early 2015.
For additional information about Suzuki del Caribe dealers or the full line of four stroke outboard motors please call Suzuki Del Caribe Marine Division at 787-999-2400 or visit us online at www.suzukipr.com.