Details

Category: News
21 September 2015
Hits: 518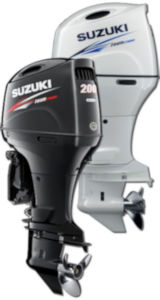 San Juan, Puerto Rico: Boating Industry Magazine recently honored the Suzuki DF200AP outboard with the Top Product 2015 recognition for their innovation, value and improvements to the user experience. With this new outboard, Suzuki sets a new standard in the industry by offering the latest in ground-breaking technology on marine engines.
"This new accolade now gives the Suzuki Marine nine distinctions," said Erving Rosario sales and marketing manager for Suzuki del Caribe. "All of the honors received have positioned Suzuki as the most award-winning outboard manufacturer globally," he added. Among the features that made the outboard standout between its competitors where: the Suzuki Precision Control, the Suzuki Selective Rotation, and the Keyless Start System Suzuki.
The Suzuki Precision Control is a technologically advanced computer-based control system that replaces the mechanical control cables found in conventional control systems with electronic wiring that eliminates the source of friction and resistance. The outboard also has the Suzuki Selective Rotation which incorporates a special, unified design of gears, shaft and bearings in the lower unit that allow the outboard to operate reliably and efficiently in either direction, standard or counter, when used on multi-outboard installations. Counter rotation operation only requires an optional activation switch that connects to a circuit inside the engine compartment plus the installation of a counter rotation propeller, eliminating the need to purchase a dedicated counter-rotation unit.
This engine introduces the Suzuki Keyless Start System to the industry. This allows the user to start the engine at the touch of a button without the need of a key. The Suzuki Keyless Start System is not yet available in engines distributed in the Caribbean.
The DF200AP outboard also showcased mayor improvements on its structure by being 12% lighter than other models in higher categories, thereby improving fuel efficiency up to 33% by incorporating the Suzuki Lean Burn Control Technology. This inline 4 outboard has similar performance as the V6 model, making it perfect for any type of boat in this power range.
Annually, Boating Industry magazine publishes a list of the best products, accessories, engines and applications for the boating industry. The winners were chosen based on factors such as their impact on the industry, innovation and how they have advanced in their category.
For more information about the DF200A / AP, workshops, and services, visit www.suzukipr.com, or call 787-622-0600. You can also visit our Facebook page Facebook/SuzukiCaribbeanMarine and click the "like" button.