Details

Category: News
14 October 2015
Hits: 658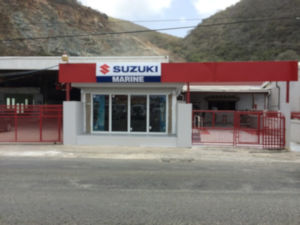 Tortola, British Virgin Islands: International Marine (Fish Bay) Ltd. is now the authorized Suzuki Marine outboard dealer in the BVI. The store, located in Fish Bay, Road Town, will carry the new Suzuki two and four-stroke outboards models that feature fuel-efficient, high- performing engines in sleek designs.
"The dealership will house a wide range of Suzuki Marine outboard motors, both two-stroke and four-stroke, ranging from the lightweight and portable DF2.5 to the powerful DF300AP," said Peter Sorrentino, director of IML. "The best way to get around the BVI is in a boat powered by Suzuki, which now can be purchased and serviced locally," he added.
IML has invested about $225,000 into new Suzuki Marine outboard inventory, Suzuki Marine parts, rigging equipment and other items such as props and marine batteries. This also includes the Suzuki Marine showroom and all its contents as well as anticipated staff training through the end of the year. Currently, IML has a staff of six highly-knowledgeable people lending expertise to help with sales, parts, new engine installations and admin work.
"We are particularly well prepared to service the charter and fleet industries in the BVI, we have in stock a large quantity of portable two and four stroke engines at very competitive pricing for small dinghies and larger tenders," added Sorrentino.
Suzuki Marine, currently celebrating its 50th anniversary, offers products known for their award- winning innovations, great efficiency and power. These have earned the company eight awards for innovation, making it the most award-winning outboard manufacturer globally.
Furthermore, they have the unique Lean Burn Control technology, which provides high efficiency while cutting down on energy consumption. In addition, Suzuki has incorporated a selective rotation technology on the 200AP, 250AP and 300AP models. This consists of a counter rotating gear in the lower unit, eliminating the need to purchase a dedicated counter-rotation unit.
"This counter rotating gear essentially turns the outboard into a counter rotation model," explained Sorrentino. "Our customers no longer have to invest in separate dedicated counter-rotation unit, making a Suzuki Marine outboard a cost-efficient investment."
For more informationvisit www.suzukipr.com or visit the International Marine (Fish Bay) Ltd. store located in the Fish Bay area. You can also contact IML via e-mail at This email address is being protected from spambots. You need JavaScript enabled to view it. or via telephone at (284) 494-2516. Also, follow Suzuki on Facebook by visiting Facebook/SuzukiCaribbeanMarine and click the "Like" button.