Details

Category: News
31 August 2016
Hits: 302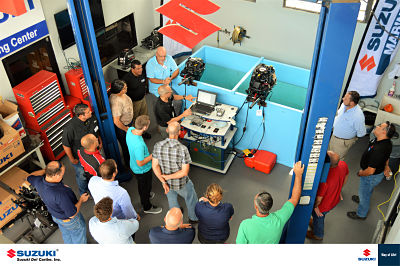 Carolina, P.R: Suzuki Marine has been honored by Suzuki Motor Corporation with the 2015 Outboard Motors Rookie of the Year Award for surpassing its sales and service goals. The award was presented on July 13 during a series of workshops for the brand's Caribbean region dealers that took place in Puerto Rico.
"This recognition represents our commitment in providing boaters and fishermen of this region with innovative, reliable and high-quality outboards," expressed Erving Rosario, sales and marketing manager of Suzuki Del Caribe. "We're always striving to provide our dealers with the latest information on products and services that will help them guide our customers to embrace the Suzuki way of life," he added.
The latest series of dealers' workshops were held at the Suzuki Technical Training Center in Mech-Tech College in Caguas. During the training, the dealers had the opportunity to try out the Suzuki DF 9.9B, which is the world's first 9.9 horsepower (HP) outboard motor designed with Lean Burn technology and Battery-Less Electronic Fuel Injection. In addition, the group tried out the latest Suzuki DF6A, the lightest 4-stroke outboard in this HP class available on the market today. This outboard is easy to handle and simple to mount on the transom of a small skiff, dinghy or inflatable boat.
"We aim to become the top outboard brand in the Caribbean by achieving various goals and by collaborating closely with all our Suzuki Marine dealers in the region," explained Rosario.
Visit www.suzukipr.com to get more information about our dealers around the Caribbean and our products. You can also visit our Facebook page "like" button. and hit the "like" button. or subscribe to our newsletter for the latest news and product information.